Currently viewing the category: "Ragnarok"
Well, it's been a while since I updated this site, but I imagine many already know that I am no longer playing RO. I want to stress that I still like Ragnarok, I've put an absurd amount of hours into playing, researching, writing about the game. When I first took a break from RO I […]
Continue Reading

→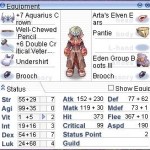 So I'm back I guess.  I wanted to leave, but in the end having nothing to do and reassurances from Heimdallr kept me around for a bit. I didn't want to continue doing things as I was  before, so I quickly whipped up a novelty character to mess around with.
Continue Reading

→
Recent Posts

Categories

Archives