So I'm back I guess. Â I wanted to leave, but in the end having nothing to do and reassurances from Heimdallr kept me around for a bit.
I didn't want to continue doing things as I was  before, so I quickly whipped up a novelty character to mess around with.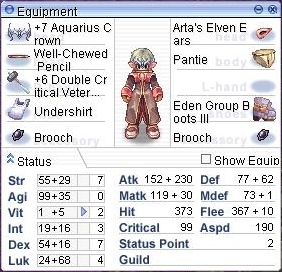 Behold, the battle priest.  It's not a very useful character, but it is definitely fun to play.  People might not know, but battle priest was the first class I played when I started playing Ragnarok.  Renewal allows me to do kind of crazy things to the stats, like get away with 99 crit and 190 aspd on a battle priest.  Reliance on adrenaline rush scrolls is a bit of a downer, but it's no worse than keeping up bless/agi as RK.  I didn't post about getting the veteran hammer before, but it's a sweet ass weapon for battle priest, with 160 attack power, increasing heal and giving me 20 crit for having max mace mastery.  Also very rare, I'm lucky to have one.  Rare hunting pays off!
I made two quick videos of it in action, one at level 83 and one at 94. Check it out.
Recent Posts

Categories

Archives